Engagement shoot – should we have one?
Congratulations!
Now that you're engaged you may be busy planning the details of your big day, from flowers and invites to venue and photographer. It really is an exciting time and there are so many suppliers to choose from.
Whether you are keen on having your photo taken or not, their are numerous benefits of taking part in an engagement shoot!
Emma & James had two shoots, one in the autumn and one in the summer!
You will get some gorgeous photographs of the two of you together, just being yourselves and relaxed and you can wear whatever you want. In the build up to the wedding you will find yourself getting busier and busier, so this is great for the two of you to spend an afternoon together… in one of your favourite locations just relaxing and feeling the excitement of your wedding day.
Check out – Wedding Wire
Everyone says the wedding day will fly by.. and it really does….you'll be having a ball!
The E-shoot is more relaxed and we can take as long as you like, you'll be surprised how quickly the shoot will pass when your having fun, with a few kisses and cuddles along the way!
I will see and capture your little details; the way you look at and hold each other. We will have fun with some poses to make you comfortable and relax so on your big day you'll completely forget that you're in front of a camera and simply enjoy each other. You may want to bring props just like Jenni & Ian, a fabulous musician with his guitar serenading his fiance.
The Engagement shoot is your opportunity to practice before the big day if you are nervous or a little shy…its a great way for you to get to know me and vise versa. You'll get to know my shooting style and way of working. You can use your engagement pictures for your save the dates, wedding website or print for your walls!
You've now made a great decision to have an e-shoot! All you need to do now is to choose your favourite location and a date. I schedule my engagement shoots mid week as most often I am shooting weddings or families at the weekend, this will give us more time together to get to know each other.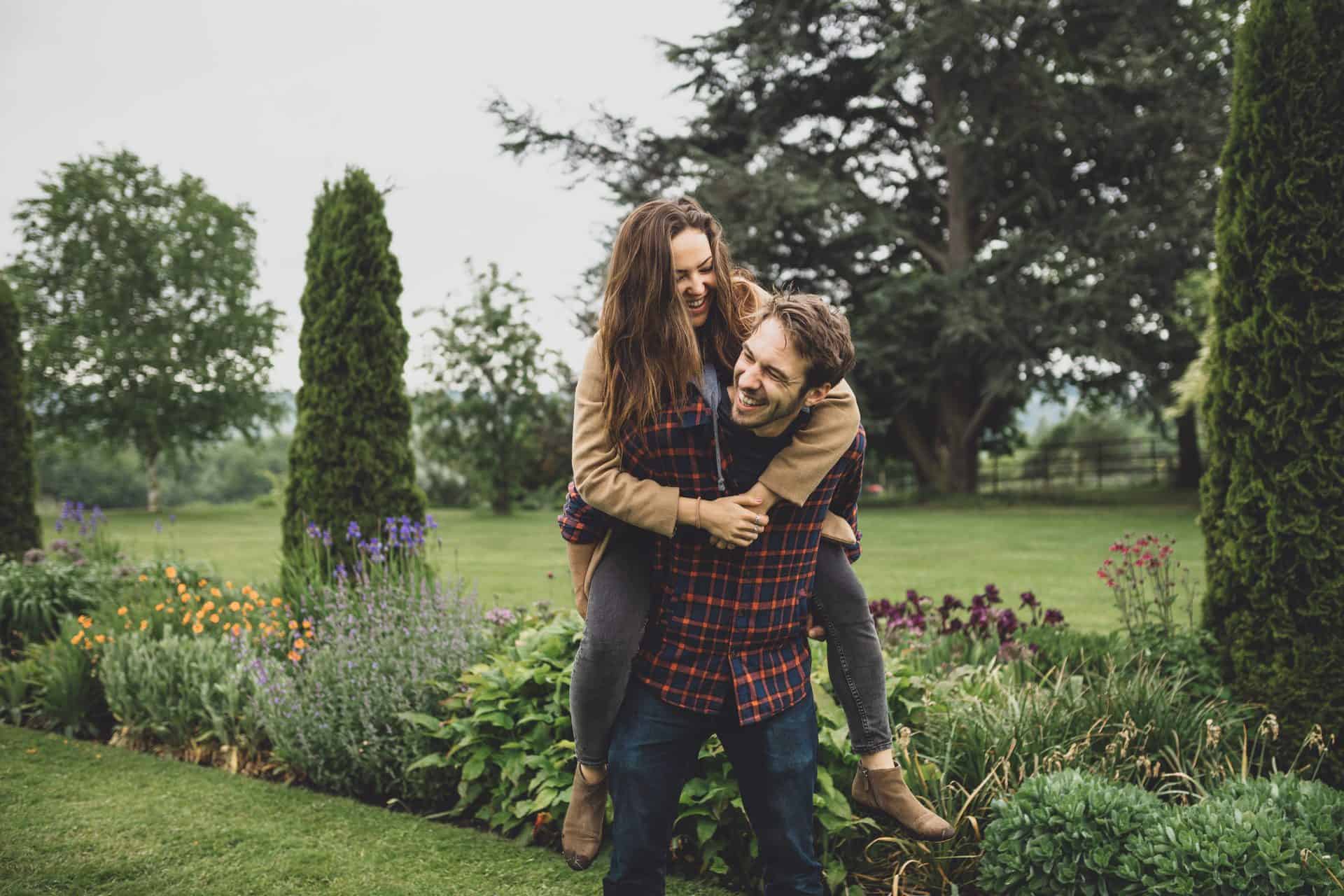 Probably you're the kind of person who knows exactly how to show off their best side, who knows how to pose and how to get your partner to relax and pose.  Chances are you can give Kate Moss a run for her money.  Or David Gandy, if there are any guys reading.
Then again, you're just as likely to be like me, someone whose default setting is to frown and hold up a No Paparazzi hand, someone who breaks out in a rash when a camera gets pointed near them and turns into a gurning Shrek the minute anyone wants a picture.  
Almost definitely there are a thousand phone pics of you and about three of them look a little bit the way you'd like them to.  And a handful of lucky snaps that serendipitously caught your best side when the light was good.  Oh, except you were wearing that T-shirt.  And you were with that guy.  And it was ten years ago.
Professional photography is not about a lucky moment or good light.  It's about preparation, skill and a relaxed relationship between subject and camera.